A new beginning, a few weeks late February 19, 2016
Posted by thejinx in books, site.
Tags: books, reading, reviews, update
trackback
I've just made a small change to the design of this blog that may mean bigger things for it: the tagline, which now mentions my art, writing, and interests.
I started this blog with the intention of focusing only or at least primarily on the things I produce. But, inspired a bit by a number of book review blogs I checked out recently, I've decided that I will start talking here about the things I enjoy, even if they aren't directly related to my art. Maybe nobody will care about it, but trying to write posts just for other people has resulted in skeletal updates here for the past… years.
Besides, if you're here visiting my personal blog, you must be looking for more information about me, right?
In the spirit of book blogs, I'm going to start by sharing my reading progress so far this year. I kind of devoured books in January, surprising even myself with how many I finished – I read more published books in the first six weeks of this year than in all of 2014.
I've also started reviewing books again. When I started this blog, I posted reviews of the books I'd read, though when I discovered Goodreads, I moved all my reviews there. In the past couple years, my reviews were feeling too formalized and time-consuming and I pretty much stopped making written reviews and simply left star ratings. But even if just for my own reference, it's nice to go into greater detail about what I liked and what I didn't, and I'm taking the reviews a little less seriously this time.
So, here is my reading progress in 2016, with links to my reviews of each:
Star Wars: Tarkin by James Luceno
My rating: 2 of 5 stars
This was the first Star Wars novel I read to completion. I tried to read a particularly popular Legends novel a few years ago, but didn't make it very far. It's taken me a long time to really get into tie-in novels. Now that I am finally able to go into one with an open mind, and with the fresh start of a new canon to get into, I wanted to start with this. I am always interested in hearing the other side of the story, and frankly, I found Tarkin to be a more menacing and effective villain in A New Hope than Vader.
However, I had a number of issues with this book. There was not enough personality to any of the characters to feel anything for them. Tarkin himself did little of his own volition and he failed so often that he came across ineffective at best and inept at worst. The number and length of flashbacks detracted from the story and I felt were a poor way of showing how he came to be the person he is by A New Hope, and overall the present story just didn't feel like the defining event of Tarkin's life.
Ultimately, I went into this book with no expectations so I can't say I was disappointed, but it did fail to enthral.
A New Dawn by John Jackson Miller
My rating: 5 of 5 stars
Even before I was ready to dive into the Star Wars EU, I wanted to read this book. We started watching Rebels, due to it now being canon, and at least up until the current season were pleasantly surprised. I then read the first six issues of the new Kanan comics and thoroughly enjoyed them, so I was very much looking forward to reading this.
And I loved this book. Absolutely loved it. I loved the characters, I loved the setting, loved how down-to-earth it was, loved the villain. I loved how Kanan was an abrasive, self-centred, self-destructive hothead and yet he was depicted in a way that still made me root for him. I also loved seeing another side of Hera that's rarely shown in the show. It's a perfect transition between the comics and Rebels and really reinforcing an interest in Kanan's story. My only disappointment is that there isn't more yet.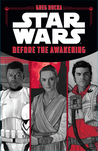 Star Wars: Before the Awakening by Greg Rucka
My rating: 3 of 5 stars
I read an article about this book shortly after seeing The Force Awakens, and with my newfound interest in the EU, I was very interested in reading it and snatched it up when I could. The idea of learning more about some of the main characters from TFA very much appealed to me, especially the idea of having some details/references from the movie cleared up.
The writing was okay, but ultimately, I only gave it 3 stars because it didn't really offer any new insight into the characters. For the most part, these backstories show the characters exactly as they appear in the movie, and aside from a couple minor details it only reinforced what we already saw. The writing style also felt pretty passive so it was difficult to really get into the characters. It wasn't a bad book by any stretch, but I really wouldn't have missed much by skipping it.
Wraith Squadron by Aaron Allston
My rating: 3 of 5 stars
As my first successful introduction into Star Wars Legends, I was given this book as less of a heavy, epic story read and more of a fun adventure romp. And it was that. There were things I liked, things I didn't, but ultimately, it was just fun.

Harry Potter and the Sorcerer's Stone by J.K. Rowling
My rating: 5 of 5 stars
It's been several years since I first read the Harry Potter series, and in light of Alan Rickman's passing – and of course the abundance of Snape memes that followed – I decided the time had come to read it again.
When I originally added this book after joining Goodreads, I rated it 4 stars because I remembered I quite enjoyed it. I raised the rating after reading it again. This book is absolutely delightful. Right from sentence one, I was drawn in, and it had such a wonderful narrative quality, it felt like the author was in the room telling me the story rather than me reading words on a page. Very, very few books have held the distinction of being absolutely un-put-down-able; even books I have adored on many and deeper levels than Harry Potter have been easy to take a breather at a chapter break, but I simply could not stop reading this.
And even from the first book, when the characters are pretty much all tropes, they are fleshed out and the hints of secrets revealed later in the series are laid down. It was simplistic, yet rich at the same time. When I read this the first time, when the hype was at its peak and I went in skeptical, I was pleasantly surprised, but this time, I completely loved it. Can't wait to reread the rest.
My rating: 3 of 5 stars
This book has been a hot topic in my house since its announcement. My husband, who is a huge Star Wars fan and has been reading the novels pretty much all his life, was upset when Disney de-canonized the entire Legends EU and started over, and doubly so when he started hearing about this book. He was determined to read it, given its significance to the new canon, but after reading about it and downloading a sample on Kindle, let's just say expectations were low.
What with my newfound interest in the EU, I decided to give it a shot, and went in with an open mind. (Of course, that is probably an easier task for me, given my lack of devotion to Legends, but then, defined canon has never been that important to me.)
I will admit, I almost gave up on this book very fast. I had a lot of issues with the first few chapters. A lot. The almost deal breaker was the sentence fragments. I don't mind sentence fragments in fiction; I use them in my own writing at times. But the sheer number of sentence fragments in the first few chapters of this book moved beyond jarring to grating. And given that such fragments were rare not much later in the book, it just seemed unnecessary and off-putting at the beginning.
That said, once the story picked up and the writing smoothed out, I did end up enjoying it. The characters were interesting enough, as was the story. I still had plenty of nitpicks, but overall I was pleased enough.
My experience, of course, isn't that of the typical EU fan, since as of writing this review, I have read all of one Legends novel. But aside from complaints about the writing itself, I don't have a problem with at least some of the critiques longtime fans have had. For example: gay characters in Star Wars. While I felt the one major character revealing himself as gay seemed a little forced in context, I think inclusion in the Star Wars universe is a good thing; after all, one of the defining traits of the Empire was racism and overall homogeny. Shouldn't the New Republic be more diverse?
Also, funny story: given my EU reading experience so far, I was surprised to discover, after noting other reviewers dissatisfied with this book filled with "nobody" characters, that most of the Legends novels focused on Luke, Leia, and Han. It's particularly interesting because to me, the more interesting stories to tell are the ones outside of the main three. There is an entire galaxy of other stories and other characters in this universe, and Luke/Leia/Han already got a full trilogy of movies. I would much rather read more about other characters.